These Concerts and More Coming to Starlight!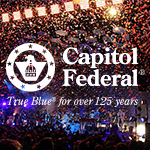 Get ready for a variety of musicians to make their way to Starlight for another fantastic summer of concerts under the stars! Starlight has already announced the following artists and more announcements will come soon.
With his lyricism and emotion, the up-and-coming rapper NF quickly set himself apart from others. After gaining another Billboard #1 with the release of "The Search," NF is heading back out on tour. The Search Tour, playing under the stars Tuesday, May 12, is the first of a summer of concerts here at Starlight.
Supporting her fourth studio album, "The High Road," Kesha brings her energetic and glitter-filled show to Starlight! This is the singer's first tour since 2018. The High Road Tour makes its way to Starlight Thursday, May 14 with bounce-music legend Big Freedia as support.
This June, Rock 'n' Roll giants Chicago and Rick Springfield are teaming up for a summer tour. Between the two groups, the musicians have achieved music's highest honors. Chicago has been inducted into The Rock & Roll Hall of Fame and Grammy Hall of Fame. Springfield has scored 17 U.S. Top 40 hits and was honored with a star on the Hollywood Walk of Fame in 2014. The tour stops at Starlight Wednesday, June 24.
The award-winning Canadian band Barenaked Ladies is working on their sixteenth album and embarking on a new tour in the U.K. and U.S. this summer. With plenty of awards and accolades under their belt, the band has amassed millions of fans and been inducted into the Canadian Music Hall of Fame. The 6th edition of the Last Summer on Earth tour stops at Starlight Thursday, June 25.
Award-winning artist David Gray celebrates the 20th anniversary of his defining album, "White Ladder," with a North American tour in 2020. Gray will be performing the album in its entirety along with the greatest hits plucked from his 11 studio albums. The tour comes to Starlight Saturday, August 8.
The #1 music brand for kids, KIDZ BOP, is back on tour and back at Starlight. The Billboard-topping family-friendly ensemble is taking their show across the U.S., Canada and Dominican Republic in 2020. The tour is revamped with all new set, choreography, interactive elements and more surprises! The show arrives at Starlight Friday, August 14.
2020 Rock and Roll Hall Of Fame inductees the Doobie Brothers are hitting the road this summer for their 50th Anniversary Tour. Over the last four decades, the Doobie Brothers have continued to wow fans with their mind-blowing, roots-based, harmony-laden, guitar-driven rock and roll. They achieved a rare "Diamond Record" with their "Greatest Hits of the Doobie Brothers" album selling over 12 million copies. The 50th Anniversary Tour plays at Starlight Saturday, August 15.
The one-man boy band Lauv arrives at Starlight on his tour of North America this summer. The rising pop star has already played stadiums opening for Ed Sheeran, written for some of music's biggest names and sold-out shows in 21 countries—and he hasn't even released an album yet. With Alexander 23 opening and Charlotte Lawrence joining, Lauv plays under the stars Sunday, August 16.
Fifteen-time Grammy Award-winning artist/songwriter/musician/producer Alicia Keys brings her talent to Starlight this summer! Since her 2001 debut, Keys has sold over 65 million records, won a number of awards and starred a variety of movies. Now back on tour, Keys brings her #1 hit discography to KC. Experience ALICIA – THE WORLD TOUR under the stars Wednesday, August 26.
Matchbox 20 takes off on their first tour since 2017 with the celebrated 20th anniversary of RIAA Diamond certified album, "Yourself or Someone like You." The hit-making, multi-platinum pop-rock band will embark on a 50+ date tour this summer stopping at Starlight Sunday, September 6. American rock band The Wallflowers will also join the tour.
Genre and culture-blending indie-rock band Vampire Weekend is back on the road in support of their new album, "Father of Bride." The album debuted at number 1 on the Billboard 200 charts—the band's third consecutive album to do so. After a nearly six year hiatus, the band is back on the road and plays under the stars at Starlight Tuesday, September 29.
Don't miss your chance to see a show under the stars this summer! More concerts will be announced soon—follow Starlight on social media @kcstarlight to be the first to know about all of the upcoming shows.