Upcoming Concerts at Starlight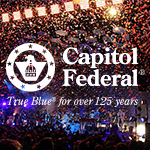 2019's Capitol Federal Concert Series kicked of May 9 with RBRM, and we're excited for another great summer season of music under the stars.
Later this month, on Sunday May 19, American rock band Chicago makes a stop at Starlight with their legendary sound, signature horns and ever-classic songs. In the band's 52nd year of touring, they've never missed a concert date—and are the first American rock band to chart Top 40 albums for six consecutive decades.
In June, progressive rock band Coheed & Cambria takes the stage at Starlight with their critically-acclaimed unique sound and songs based on one of the band member's sci-fi storylines. Heavy metal band Mastodon joins them in Kansas City on Tuesday June 18, and most recently won the 2018 Grammy Award for Best Metal Performance.
Next, the multi-platinum rock bands Train & the Goo Goo Dolls team up to roll across North America, including a stop at Starlight on Friday, June 21. Train recently released a new Greatest Hits album, including "Hey Soul Sister," which was the biggest-selling single of 2010. The Goo Goo Dolls has received numerous awards, including four Grammy nominations, and released their latest album in 2016.
Rounding out next month's lineup at Starlight are Third Eye Blind and Jimmy Eat World, joining forces Sunday, June 23 to play under the stars. Third Eye Blind scored their first major hit in 1997 and has continued to see success ever since. Jimmy Eat World was originally a big name in the emo genre, but soon found a larger audience with a sound of alternative and pop.
For tickets to all shows in the Capitol Federal Concert Series, order online at kcstarlight.com/concerts, call 816-363-7687, or visit our box office at 4600 Starlight Road, Kansas City, MO 64132.
To learn more about our VIP Concert Season Ticket Program, contact Jeff Miller, Starlight's Concert Sponsorship & VIP Sales Manager, at jeff.miller@kcstarlight.com. VIP tickets include free reserved parking, early entrance, a private bar & lounge, and concierge service that can't be beat.