Updates to Your 2021 Broadway Season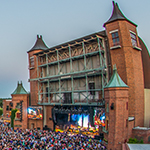 Dear friends of Starlight,
Due to the continuation of the COVID-19 pandemic and the announcement that Broadway will be shuttered until at least June of next year, we recently learned that there will be a number of changes to your 2021 AdventHealth Broadway Series. Almost all of the Broadway producers have had to make the tough decision to once again postpone their tours until next fall or later—which in turn, affects our ability to present most touring Broadway shows in 2021.
While we were excited for these touring Broadway productions to take the stage, we knew changes were a possibility. Our planned summer still includes Sister Act and Escape to Margaritaville, but the remaining tours we had announced are now cancelled or postponed until 2022.
We have several contingency plans and are working hard to make sure that, no matter what, we can bring you an exceptional summer of musical productions. Although we're not ready to make an announcement regarding specific shows and titles quite yet, we're working closely with a number of other presenters from all across the country (including The Muny—just down the road in St. Louis!) to bring Broadway to Kansas City next summer.
As of now, no action is required on your part. Please be patient as we continue to program a great season for you, and note that if you are a renewing season member, we have extended the renewal deadline to Friday, February 19, 2021.
If you have any questions, please don't hesitate to reach out to the box office at subscriptions@kcstarlight.com or by calling (816) 363-7827 during ticket office hours (Monday – Thursday, 9 a.m. – 5 p.m.).
Thank you for your continued support of Starlight as we weather this unprecedented storm. Summer 2020 was the first time in 70 years that Starlight's stage remained dark, but please know that I will do everything in my power to ensure our stage will once again light up with outstanding productions in 2021.
As always, stay strong, Kansas City.
Sincerely,
Richard Baker
President & CEO