Vincent Legacy Scholars and Families Celebrate the Holidays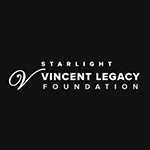 In mid-December, Vincent Legacy Scholars, their families, Starlight staff and board members gathered together in person to celebrate the holiday season for the first time in two years. The annual holiday reunion is always a favorite, as current scholars and alumni share life updates and reconnect with one another from the past year. This year's event also featured a special treat, as the reunion took place in Starlight's Starry Night Room and attendees were invited to attend Van Gogh Alive after dinner.
"Vincent Legacy Scholars truly become a family, and it's especially evident at this annual gathering," Alex Jones, Starlight's Vice President of Community Engagement, said. "They share in their excitement with successes and support one another in their challenges. This year was especially moving, as it was the first time since the pandemic began that some of our scholars and alumni were able to return to Starlight."
The evening began with an introduction and highlight of the newest scholars—Noa Henderson, Savannah Jordan, Samyra Regalado and Chamberlain Webster—who were awarded their scholarships in summer of 2021. Next, scholars and alumni shared updates a little differently than in years' past, by answering prompts to be hung for display during dinner. A number of scholars look forward to continuing their training in theatre, dance and music in 2022. One scholar plans to begin nursing school, and another will attend the California Institute of the Arts beginning this month.
After sharing in an Italian feast from Starlight's Chef Bear, attendees enjoyed a Scholar Panel Discussion. Lauren Howard and Zachary Garner answered questions, gave advice and more with Courtney Germany moderating. Before guests departed to enjoy Van Gogh Alive, program founder, Greg Reid, recapped the theme of the reunion with a message of support for scholars to be true to themselves and utilize the skills from their arts training in whatever paths lie ahead.
Overall it was a wonderful gathering, and Starlight is so thankful for its scholars, their families, and supporters of the program. We wish everyone a fantastic year in 2022!