Vincent Legacy Scholarship alumni reunite for the Holidays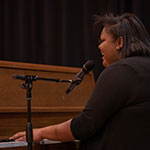 When Starlight awards middle school youth a Vincent Legacy Scholarship, the students become more than just scholarship recipients. They become a part of the Starlight family with events to attend together. On Saturday, January 4, scholars, their families, Starlight leadership, board members and staff gathered for their annual holiday celebration at the Starlight campus in Swope Park.
The evening began with a welcome and introductory remarks by Barb Schulte and Rich Baker, Starlight's Vice President of Education and Outreach and President and CEO, respectively, followed by an introduction of the 2019 scholars. Attendees then enjoyed a delicious dinner of tacos, fajitas and sweet treats specially curated by Starlight's Chef Bear.
Throughout the evening, attendees heard from former and current scholars, who took turns sharing what they've been up to throughout the past year. Numerous scholars have continued their theatre education through singing, dancing or acting classes, and some scholars shared about their most recent semesters in high school and college. One scholar has been cast in numerous productions for the Kansas City Repertory Theatre, and another had just recorded an EP that afternoon for upcoming release.
After dinner, select scholars performed for the audience, with renditions of popular songs, musical numbers and even an improv scene. 2018 scholar Lauren Howard closed the performance portion of the evening accompanying herself on the piano with her original song, "I'll Try."
After warm closing remarks from Greg Reid, who along with his wife, Rebecca, founded the Vincent Legacy Scholarship program in 2006, all holiday dinner attendees gathered for a group photo before saying their goodbyes. All in all, it was a wonderful evening of reunions, performances and celebration. All of us at Starlight can't wait to see what these scholars accomplish in 2020 and beyond!
For more information on the Vincent Legacy Scholarship program, email education@kcstarlight.com or visit kcstarlight.com/education.