YFS Steering Committee, Anything Goes and Tomorrow Podcast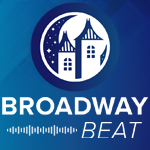 On this week's episode, Young Friends of Starlight Steering Committee applications are now available, Anything Goes heads to cinemas, and an Annie sequel hits airwaves.
YFS Steering Committee Applications
Young Friends of Starlight is looking for new members to add to its Steering Committee. Applications are available now for the upcoming term beginning April 1. Young Friends of Starlight is the young professionals membership group of Starlight who works to make Broadway shows, concerts and special events at Starlight Theatre more accessible for all audiences. Steering Committee members are expected to attend a monthly meeting, participate in Young Friends of Starlight events and volunteer opportunities, and serve on a committee.
Click here for more information and to apply.  
Anything Goes Heads to Cinemas
Another classic musical is heading to cinemas! Anything Goes, which tells the tale of an ocean liner bound from New York to England, premiered on Broadway in 1934 and has been revived a number of times. This most recent incarnation stars Sutton Foster, who won a Tony Award playing the same role on Broadway in 2011, and was filmed over three performances in London's West End. Anything Goes will play in cinemas March 27 and 30 and will be shown locally at a number of cinemas throughout the metro. Tickets start at just under $14.  
"Tomorrow" - the Annie Sequel Podcast
Looking for your next marathon-worthy podcast? Recently released, "Tomorrow" is the sequel musical podcast to the classic Broadway show Annie. Starring Laura Benanti as Miss Hannigan, Lance Reddick as Daddy Warbucks and Alan Ruck as Drake, "Tomorrow" takes place five years after the events of Annie. Annie is now 15 and must solve a mystery that shocks the Warbucks empire. With new episodes released weekly, listeners can tune in to Amazon Music, Wondery, or wherever they listen to podcasts for each new episode.