2022 Broadway Season Renewals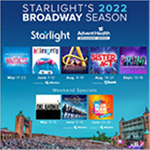 In case you missed it, last month we announced the 2022 AdventHealth Broadway Series lineup at Starlight, and we couldn't be more excited!  This series will feature a wide selection of shows designed to satisfy the varied tastes of Kansas City theatre-goers.
As you consider renewing your Broadway subscription or becoming a new subscriber, keep in mind that we save the best seats in the house for our donors!  If you make a qualifying gift or pledge between August 1, 2021 and July 31, 2022, not only will you be able to enjoy the full range of benefits we offer throughout the season; you will also become eligible to purchase tickets in our premium Donor Priority Seating section.
Current season ticket holders are welcome to renew their five-show season now and add one or all three weekend specials: Oklahoma!, Riverdance - 25th Anniversary and Blue Man Group. New season ticket holders may also secure their tickets for the 2022 season now and will be seated after renewals are complete. Remember, donations must be made before seats are renewed or purchased in order to access the Donor Priority Seating section.
Many thanks for your continued support of Starlight!
In chronological order, the 2022 AdventHealth Broadway Series at Starlight is as follows:
Oklahoma! – Weekend Special
May 13-15, 2022
This is Oklahoma! as you've never seen or heard it before—reimagined for the 21st century and the Tony Award Winner for Best Revival of a Musical.
Waitress
May 17-22, 2022
Waitress tells the story of Jenna, an expert pie maker who dreams of a way out of her small town in this uplifting celebration of friendship, motherhood, and the magic of a well-made pie.
Hairspray
June 7-12, 2022
Join 16-year-old Tracy Turnblad in 1960's Baltimore as she sets out to dance her way onto TV's most popular show. Can a girl with big dreams (and even bigger hair) change the world?
Riverdance 25th Anniversary – Weekend Special
June 17-19, 2022
This original stage spectacular is celebrated the world over for its Grammy Award-Winning score and the thrilling energy and passion of its Irish and international dance.
Blue Man Group – Weekend Special
June 24-26, 2022
More than 35 million people around the world have experienced the smash-hit phenomenon that is Blue Man Group, and now it's your turn!
Anastasia
August 9-14, 2022
Inspired by the beloved films, the romantic and adventure-filled new musical Anastasia is on a journey to Starlight at last!
Sister Act
August 16-21, 2022
This musical comedy smash is the feel-good show based on the film of the same name and features original music by Tony- and Oscar-winner Alan Menken.
The Prom
September 13-18, 2022
The Prom is a new musical comedy about big Broadway stars on a mission to change the world—and the love they discover that unites them all.