A full month of concerts ahead at Starlight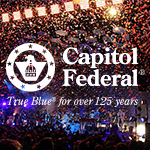 As Kansas City ushers in the beginning of a beautiful fall season, Starlight is pleased to have a range of concerts for a variety of music lovers to enjoy under the stars at Swope Park. Already this month, Ian Anderson presented 50 years of Jethro Tull on Saturday, Sept. 1, and Ringo Starr and his All Starr Band brought hit after hit to the Starlight stage on Monday, Sept. 3.
Still coming up this month—we have a packed weekend, kicking off Friday, Sept. 7 with Boy George & Culture Club and The B-52s. After more than two decades and 150 million singles and records sold globally, this tour set list will celebrate some of Boy George & Culture Club's biggest hits plus give fans an advance listen to new songs. Joining them, one of music's most beloved and enduring bands, The B-52s, will rock the Starlight stage with hits like "Love Shack" and "Roam."
In conjunction with the release of their newest single, O.A.R.'s 37-city tour stops by Starlight the next evening, Saturday, Sept. 8. O.A.R.'s unique sound reached mainstream success in the mid-2000s and the band just celebrated their 20th anniversary in 2016, now having released eight albums. Special guest Matt Nathanson joins the tour—an applauded songwriter and engaging performer, Nathanson is known for his multi-platinum hit "Come on Get Higher."
Rounding out the weekend, Christian rock band NEEDTOBREATHE plays under the stars Sunday, Sept. 9. Widely acknowledged for their anthemic, alt-rock dynamic, NEEDTOBREATHE has released a half-dozen studio albums, a double live album and has been accolated for their musicianship and innovation. American folk, soul and rock duo Johnnyswim and nimble songwriter Forest Blakk join NEEDTOBREATHE on their coast-to-coast tour this summer.
Counting Crows hits the Starlight stage Tuesday, Sept. 11. With more than two decades and 20 million albums sold globally, Counting Crows celebrates with their "25 Years and Counting" worldwide tour. Special guest and multiplatinum band +LIVE+ joins Counting Crows on their 40-city trek.
Indie-rocker and 2015 Grammy Award winner for Album of the Year, Beck plays Starlight Theatre Monday, Sept. 17. Originally gaining notoriety from his anthem "Loser," Beck's alt-pop sound helped definite the '90s and made him one of the most interesting musicians of his era. Beck is joined by The Voidz, an American rock band formed by Julian Casablancas of The Strokes.
Deep Purple & Judas Priest conclude September's concerts with a co-headlining show at Starlight, Tuesday, Sept. 18. The metal pioneers, Deep Purple have released five studio albums since 1996—most recently releasing inFinite in April 2017. Judas Priest's latest studio album, Firepower, was released in March 2017 and has become one of the most successful of the band's career.
Tickets for all concerts are available at kcstarlight.com, by calling 816-363-7827 or by visiting the box office at 4600 Starlight Road, Kansas City, Mo., 64132.