Mission + Vision
Since 1950
Starlight is dedicated to excellence in the performing arts.
Connect our community through live arts experiences that entertain, inspire, and engage.
VISION
Be the home for accessible live arts experiences for all generations.
---
History
By the mid-1940s, discussions of an "outdoor stage" for Kansas City had been under way for two decades. While an outdoor theatre was low on the city's list of priorities, plans for a ceremony to celebrate Kansas City's 100th anniversary added urgency.
City officials selected Swope Park as the site for the performance and, with bond money held up in litigation, the city's Centennial Association contributed $135,000 to begin construction in December 1949.
On June 4, 1950, in a facility not yet fully complete, the historical revue, Thrills of a Century, opened at Starlight Theatre in celebration of Kansas City's 100th birthday. The show played nightly through July 10. Hundreds of local citizens participated in the pageant, and thousands turned out each night. Show highlights included the staging of the Battle of Westport, a Gay '90s revue, and the original locomotive that crossed the Hannibal Bridge 81 years before chugging across the stage on specially built rails.
The pageant's success prompted the Park Board to move ahead with plans to complete Starlight. In 1951, a not-for-profit organization was created to activate and run the theatre going forward.
---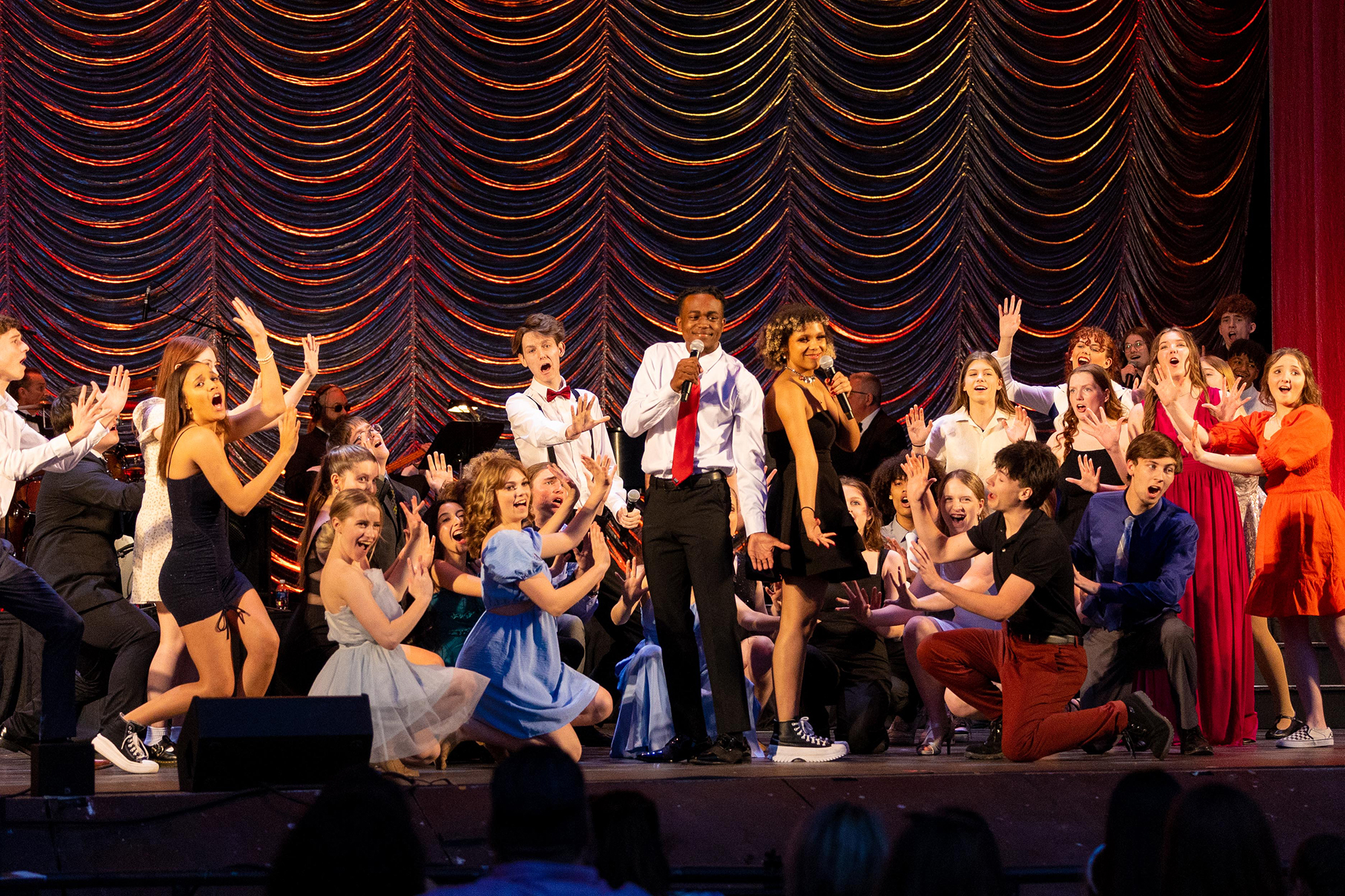 Values
Collaboration – We communicate and cooperate in order to build strong relationships, cultivate diverse perspectives, and achieve our shared goals.
Accountability – We deliver quality, value, and consistency in our programs and services; and accept and transparently share the results of our decisions and actions.
Service – We apply a people-first mentality of empathy, kindness, helpfulness, and respect in all our interactions.
Creativity – We celebrate the positive impact of the live arts by committing to continual learning, improvement, and innovation that strengthens our work, and our legacy.
IDEA – We take a holistic view and approach to embracing the importance and significance of inclusion, diversity, equity and access.
---
Diversity + Inclusion
Starlight is actively embedding inclusion, diversity, equity and access into every aspect of our organization. Through our mission, we are dedicated to delivering accessible entertainment for all audiences. The uniqueness of our employees, volunteers and community are what make the Starlight experience memorable. We aspire to create a culture where everyone belongs and all are welcome. We strive to be an organization that our city is proud to champion.
Starlight Drivers
Our drivers have been created with the purpose of building a stronger foundation and commitment for our IDEA initiatives and efforts moving forward−including utilization in the development of our strategic plan.
Starlight for all
Starlight will create a welcoming environment by removing barriers that prevent any individual from engaging with our organization.
IDEA investment across all Starlight initiatives
Starlight will comprehensively embrace IDEA by committing resources of time, funding and attention.
Value-driven decision making
Starlight will approach organizational decisions through the lens of Inclusion, Diversity, Equity and Access. Our actions will be representative of our commitment to IDEA.
Inclusive and equitable partnerships
Starlight will cultivate inclusive partnerships that demonstrate equitable collaboration, embrace diverse perspectives and evaluate community outcomes.
Transparent communications that build trust in our commitment to IDEA
Starlight will listen and communicate with honesty, empathy and respect.
Collective accountability
Starlight will expect accountability for the advancement of IDEA initiatives throughout our organization.