Announcing the 2023 Star Award Honorees: Greg & Rebecca Reid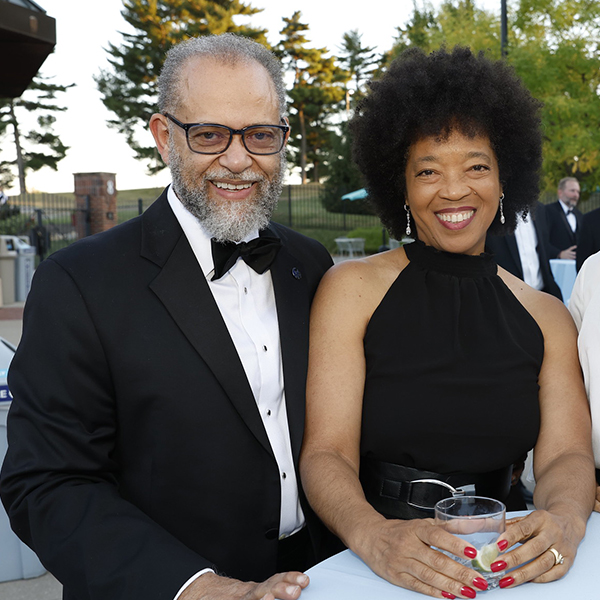 Each fall at the Annual Benefit Gala, Starlight presents the Star Award to an individual or couple with exceptional support of Starlight and its mission, civic leadership, and a commitment to bettering the Kansas City community. This year, we are incredibly proud to announce our 2023 Star Award Honorees: Greg and Rebecca Reid.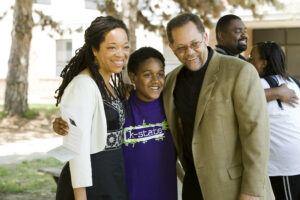 Greg and Rebecca have been Broadway season ticket holders at Starlight for nearly 25 years. They have been longtime supporters of Starlight's Annual Benefit Gala and have shown their dedication to ensuring Starlight's future as members of Starlight's Legacy Society. What's more, Greg Reid recently completed his fifth term on Starlight's Board of Directors, providing leadership and service as a Board Member, Marketing Committee Chair, and Board Secretary.
However, their most impactful contribution to the community through Starlight is the Vincent Legacy Scholarship program. While attending performances and other events, Greg and Rebecca observed limited diversity in the audiences and programming at Starlight. As a result, they began pursuing strategies to make participation in the performing arts at Starlight more accessible to Kansas City youth.
With the support and active engagement from Starlight's leadership staff and Board of Directors, the Reids' established the Vincent Legacy Scholarship endowment in 2006, named in memory of Greg's firstborn son, Vincent. The program provides need-based scholarships to talented BIPOC (Black, Indigenous, and People of Color) middle-school students alongside ongoing support, engagement, and encouragement to pursue professional training and experience the life-expanding possibilities of the performing arts. In 2015, the Broadway League recognized the impact of this program, presenting the Reids with the Star of Touring Broadway Award. Since the program launched, 54 students have received one of the $2,500 Vincent Legacy Scholarships.
According to Greg in a 2019 interview, "We look for that desire and that motivation more than we look for raw talent…you can just see it in their eyes – the desire to excel. We want to try to find [those students] and help them pursue opportunities that may otherwise not be available to them and their families due to economics or access."
The recipients have used their scholarships to fund a wide variety of performance training – from professional voice lessons; to improv classes at Kansas City Young Audiences; and even a six-week Alvin Ailey Summer Intensive Program in New York City. As a result, many recipients have pursued a career in the arts as professional choreographers, dancers, and performers in film, television, and modeling. Others have used the life skills learned and support provided from the program to pursue careers in nursing, theology, entrepreneurship, education, and more.
Zachery Garner, 2014 Vincent Legacy Scholarship recipient, shared that Greg and Rebecca are two "very special people in my life who have supported and encouraged me." He says of the program, "If it wasn't for the generosity and support from [Greg and Rebecca] and Starlight, I don't know where I would be today."
As the program grows, the Reids remain active in the lives of each scholar. Their schedules are regularly filled by attending performances of program alumni and current scholarship recipients, in addition to program events held at Starlight. The Reids say each event and performance makes for a beautiful extended family celebration through the years.
"It is amazing, but not surprising, what these young people have accomplished with the help and support of the Starlight and the Vincent Legacy Foundation," Greg said.
Thank you, Greg and Rebecca, for your ongoing support of Kansas City's youth and the immeasurable impact of the Vincent Legacy Scholarship program.
Please join us in celebrating Greg, Rebecca, and the accomplishments of all the young scholars at Starlight's 36th Annual Benefit Gala on Saturday, October 14, 2023. Each sponsorship and ticket purchase helps support life-changing arts programming like the Vincent Legacy Scholarship program. For details, visit kcstarlight.com/gala.