Capitol Federal Marks 10th Year as Concert Series Sponsor at Starlight Theatre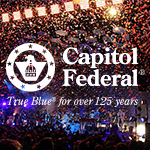 Starlight Theatre and Capitol Federal® are proud to celebrate their 10th year of partnership in presenting Starlight's summer concert series. Since introducing the Capitol Federal Concert Series at Starlight in 2008, the outdoor theatre's annual schedule of events has grown significantly in both number and diversity of artists and acts.
Concert seasons at Starlight typically include 20 or more shows and feature a wide range of performers and musical genres, as well as comedy acts. From classic, alternative and Christian rockers to pop artists, country stars, acclaimed comedians and even performances suited for kids, tweens and teens, Starlight's summer lineup offers a show or several to satisfy most every musical and entertainment taste. The concert season typically opens in April or May and often continues through mid-October.
"Capitol Federal® has shared a wonderful partnership with Starlight Theatre for the last 10 years," said John B. Dicus, Capitol Federal's Chief Executive Officer. "We are proud to sponsor the performing arts and support the excellent entertainment Starlight provides the Kansas City area and beyond. CapFed® is excited to be a part of another superb season and, together, continue to make Kansas City a top place to live, work and play."
During the course of its decade-long association with Starlight, Capitol Federal has maximized opportunities to increase its corporate visibility within the theatre venue and in associated marketing and communications vehicles. Capitol Federal frequently offers concert pre-sale opportunities to its customers, hosts social media and on-site contests, and entertains clients in Starlight's VIP Club during concert events.
"It has been a tremendous partnership for the past 10 years, and we look forward to growing our association with Capitol Federal in the years to come," said Rich Baker, Starlight president and CEO. "Having the Capitol Federal name and reputation associated with Starlight Theatre's concert series communicates to Starlight audiences that our organization and programming are valued by one of this region's most respected institutions. And, we believe the exposure and goodwill Capitol Federal gains on our summer concert nights and through associated promotional support create greater interest in the banking services it provides throughout metropolitan Kansas City."
Events already announced for the 2018 Capitol Federal Concert Series at Starlight are:
Modest Mouse – Friday, May 11
Trevor Noah – Saturday, May 12
Tenderloins (aka TruTV's Impractical Jokers) – Saturday, May 19
The Head and The Heart – Tuesday, May 29
#IMOMSOHARD – Thursday, May 31
Barenaked Ladies/Better Than Ezra – Saturday, June 2
Steely Dan/Doobie Brothers – Monday, June 18
Dwight Yoakum, Lucinda Williams & Steve Earle – Thursday, June 21
Chicago & REO Speedwagon – Wednesday, June 27
Evanescence & Lindsey Stirling – Friday, July 6
Paramore with Foster The People – Saturday, July 7
Ray LaMontagne – Sunday, July 8
STYX & Joan Jett – Tuesday, July 10
Foreigner with Whitesnake – Tuesday, July 17
KIDZBOP – Friday, July 20
Charlie Puth with Hailee Steinfeld – Thursday, Aug. 9
Niall Horan with Maren Morris – Wednesday, Aug. 22
Jason Mraz with Brett Dennen – Friday, Aug. 31
Ian Anderson presents Jethro Tull – Saturday, Sept. 1
Ringo & His All-Starr Band – Monday, Sept. 3
Boy George & Culture Club and the B-52s – Friday, Sept. 7
O.A.R. with Matt Nathanson – Saturday, Sept. 8
NEEDTOBREATHE – Sunday, Sept. 9
Counting Crows – Tuesday, Sept. 11
Starlight 2018 concert ticket sales are ongoing. For tickets and information, visit kcstarlight.com/concerts or call 816.363.STAR (7827).