Charlie Puth, Joe Rogan, Niall Horan and Jason Mraz to Play Under the Stars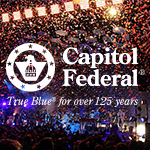 Summer may be winding down, but many fun concerts are still ahead at Starlight! Here's who to catch this month under the stars.
Charlie Puth, a multi-platinum artist, musician and producer will be joined by fellow multi-platinum recording artist Hailee Steinfeld at Starlight Theatre on Thursday, Aug 9. The tour celebrates Puth's new album, "VOICENOTES," featuring smash single, "How Long," which Vanity Fair named one of "The 17 Best Pop Songs of 2017." Special guest Hailee Steinfeld has cemented herself as a rising force in pop music since her 2015 platinum-certified debut single "Love Myself," double-platinum-selling "Starving" and platinum-selling summer anthem "Most Girls."
Comedian Joe Rogan brings his "Strange Times 2018" North American tour to Starlight on Friday, Aug. 10. A stand-up comedian for more than 20 years, Rogan is known for his inquisitive and intense comedic style. His fifth hour-long special, "Joe Rogan: Triggered," premiered on Netflix in October 2016, and his podcast, "The Joe Rogan Experience," is one of the most popular offerings online.
Niall Horan, who has sold more than 70 million records as part of One Direction, will perform on Wednesday, Aug. 22. Horan launched his solo career with the singles "This Town" and "Slow Hands," which have each achieved platinum certification in multiple countries. Horan has been honored with numerous awards and will be joined by Maren Morris, a Billboard chart-topping singer-songwriter whose major album debut, "Hero," charted No. 1 on the Top Country Albums chart.
Lastly, American singer-songwriters Jason Mraz and Brett Dennen bring their GOOD VIBES tour to Starlight Theatre on Friday, Aug. 31. Over the past two decades, Mraz has earned numerous platinum certifications for his releases, made pop history with record-breaking singles "I'm Yours" and "I Won't Give Up," earned two Grammy Awards, won the prestigious Songwriter Hall of Fame Hal David Award and sold out amphitheaters and arenas around the globe. Mraz is joined on tour by Brett Dennen, a folk-pop artist from central California. Dennen released his sixth studio album, "Por Favor," in May 2016 and, this January, he released his newest single, "Already Gone."
Tickets for all concerts are available online at kcstarlight.com, by calling 816-363-STAR (7827) or at the Starlight box office at 4600 Starlight Road, Kansas City, Mo., 64132.