Congrats to Barb Schulte on Retirement!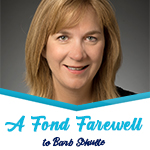 After 14 dedicated years at Kansas City's historic outdoor theatre, Starlight's Vice President of Community Engagement, Barb Schulte, retired at the end of 2020. While her final year in the workforce was nothing like she imagined as COVID-19 dominated the headlines, Schulte knows that she won't be a stranger to Starlight once the pandemic passes.
"Starlight brings people from all walks of life together for a night of live entertainment—and escape from their real-world challenges," Schulte said. "It gives families a safe, welcoming environment to introduce even their youngest children to the magic of theatre and the arts. It's where Kansas City celebrated its first 100 years of existence in 1950, and our city and the Starlight organization have kept it thriving ever since!"
In her tenure at Starlight, Schulte served as Director of Communications and Outreach from 2006 to 2012 and again from 2014 to early 2018. In this role, she led a wide variety of communications and marketing activities including media and public relations, content development, promotional support and more. In 2018, she became Starlight's first-ever Vice President of Community Engagement and worked to strategically elevate the theatre's portfolio of arts education and community outreach programs.
"I will miss my Starlight family—my coworkers, our students, their parents, our volunteers and so many more hard-working people who love this iconic theatre and the programs it offers to the community," Schulte said. "Together, we put the shine on Starlight!"
In her retirement, Schulte plans to travel the world with her husband (when it's safe to do so again), spend quality time with their five young grandchildren, volunteer and help furry friends find their new homes, and even go back to school! She's discovered a love of geography and art history that she wasn't able to previously fit in to her college schedule. And, of course, Schulte hopes to return to Starlight for many Broadway shows, concerts and other events in 2021 and beyond!
"Like everyone who has now navigated this pandemic, I cannot wait to enjoy live entertainment under the stars at Starlight!" Schulte said. "if my Starlight colleague Bill Waugh could book another James Taylor concert date soon, that would be the ultimate retirement gift for me."
In addition to Starlight, Schulte's previous 35-year work experience includes the Ewing Marion Kauffman Foundation, HNTB Corporation, Boasberg Valentine Radford Public Relations and Vance Publishing. She earned a bachelor's degree in journalism from the University of Missouri-Columbia and a master's of business administration from the University of Missouri-Kansas City.
Congratulations, Barb, on all of your accomplishments! From everyone at Starlight, we thank you for your hard work and dedication throughout the years. We hope you enjoy your retirement—but don't be a stranger!
To read Barb Schulte's entire Q&A, click here.