Congrats to the 2022 Vincent Legacy Scholarship Recipients!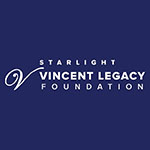 Starlight Theatre is proud to announce the recipients of the 2022 Vincent Legacy Scholarships. Our Vincent Legacy Scholarship recipients are middle school students who share a passion and talent for the performing arts and an interest in community service. Congratulations to this year's recipients!  
The 2022 scholarship recipients are: 
Abby Williams - Indian Trail Middle School
Fun Fact: Abby has competed on a National Acrobat Competition team and is passionate about aerial acrobatics.
Denali Hunter - Osage Trail Middle School
Fun Fact: Not only is Denali a talented actress, dancer, and singer, but she is also gifted at drawing.
Dontez Martin - Carl B. Bruce Middle School
Fun Fact: Dontez is interested in character and costume design and enjoys designing for different historical periods.
Imani Johnson - Lincoln College Preparatory Academy Middle School
Fun Fact: Imani started a non-profit organization called Heal, Help, Bless, which supports those who lost their jobs due to COVID-19.
Veronica Barriere - Belton Middle School
Fun Fact: Veronica attended the Alvin Ailey School of Performing Arts on scholarship for the Summer Institute.
Starlight looks forward to celebrating this year's recipients at the Vincent Legacy Scholarship  Presentation on Friday, August 19. The students will enjoy a catered dinner by Starlight and be publicly recognized on stage before Sister Act.  
Thanks to the generosity of longtime Starlight supporters Greg and Rebecca Reid, Starlight has proudly awarded the Vincent Legacy Scholarships since 2006. The Vincent Legacy Scholarships provide BIPOC (Black, Indigenous, and People of Color) students with the funds to pursue professional training and experience the life-expanding possibilities of the performing arts. 
We are so excited to see where our Vincent Legacy Scholars go! Learn more about the scholarship program here.