Casting Call: Could Your Dog Be a Star?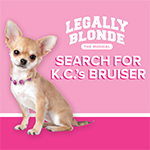 Legally Blonde The Musical is coming to Starlight and needs a furry friend to complete the cast. Does your dog have what it takes to be a star?
The chosen Bruiser will be in great company with Nikki Snelson, who played Brooke Wyndham in the original Broadway production of Legally Blonde The Musical in 2007 and will be directing and choreographing the musical.
The successful canine will have to meet some important criteria.
CRITERIA
Chihuahua or Chihuahua mix.
Have a laid-back, relaxed disposition in response to bright lights, music and audience.
Be very friendly with other dogs and with people, especially people they've only just met, and be extremely comfortable with being picked up and carried. Bruiser will be carried in Elle's handbag frequently throughout the show.
Be aware and responsive to commands, such as 'come' and 'sit.'
Barking on command and previous stage experience is a bonus!
Owner must be able to look after the dog backstage and throughout all rehearsals and performances as outlined below.
All canine applicants and their human caregivers must be available the following dates:
SCHEDULE
Sunday, April 16 – Callback Auditions at Starlight Theatre. Starlight will contact you should you be selected for callback auditions.
June 26 – July 3 – Daytime rehearsals (specific times to be confirmed).
July 5 – 6 – Daytime / Evening Rehearsals on the Starlight stage (specific times to be confirmed).
July 7 – 13 – Evening performances.
The successful hound will receive free tickets for family and friends, a professional photoshoot, and will be gifted their costumes from the show.
If your pooch fits the criteria, make a quick video of your dogs' best tricks and adorable personality. Post the video on your social media and tag Starlight @kcstarlight by April 9, 2023.
If you have questions or need more information, contact the Starlight production team at auditions@kcstarlight.com.