Donor Spotlight: Blue Cross and Blue Shield of Kansas City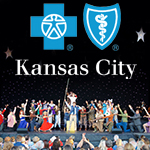 Thanks to our generous donors and corporate partners, thousands of Kansas City residents are impacted by Starlight's community engagement programs each year. One of our longest partnerships is with Blue Cross and Blue Shield of Kansas City (Blue KC), who have helped Starlight advance its mission in many capacities over the past several decades – from supporting Broadway shows and our annual benefit gala, to becoming a founding sponsor of our signature Blue Star Awards program. We recently sat down with Jenny Housley, Senior Vice President and Chief Marketing Officer at Blue KC, to discuss the company's philosophies on charitable giving and why they choose Starlight.
Q: What inspired Blue Cross and Blue Shield to start a charitable giving program? Why do you feel it's important for local businesses to support area non-profits?
A: Blue Cross and Blue Shield of Kansas City has been a community leader for more than 80 years and giving back is the foundation of our corporate culture and our mission. Non-profits provide invaluable services and support to our community including housing, food, and education, as well as world-class entertainment venues to experience the performing arts.
Q: Why do you choose to support Starlight? What interests you most about the work we do and the programs we offer?  
A: Starlight Theatre is one of the greatest assets in Kansas City – a rare gem in the world of arts that must be sustained for generations to come. Starlight's impact on young performers is especially critical in an environment traditionally dominated by school sports. Starlight creates opportunities (like the Blue Star Awards program) to reward the area's greatest talent and connects youth with like-minded leaders to support their development and growth.
Q: What kind of impact do you feel Starlight's programs have on the Kansas City community, and why does that matter to Blue KC as a local business leader?  
A: Starlight Theatre is uniquely positioned to bring people together to experience performing arts in ways few other venues can and does so in the heart of our city. We are very proud of our longtime affiliation with Starlight Theatre and, as a founding sponsor of the Blue Star Awards, believe we have helped to lead the way in recognizing excellence in musical theatre among thousands of Kansas City high school students.
Q: What is your favorite part about attending a program at Starlight?
A: We love the unique outdoor vibe for musicals and concerts that only Starlight can provide. Top notch entertainment in a spectacular venue creates memories that will last a lifetime.