Enjoy The National at Starlight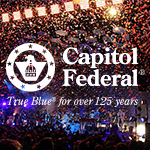 Although our summer under the stars will soon come to a close, we still have one more exciting concert to share with Kansas City concertgoers this season. The National returns to Starlight Theatre on October 7 in support of their critically acclaimed new album Sleep Well Beast with special guest Alvvays.
An American rock band formed in Cincinnati, Ohio, in 1999, The National has enjoyed seven studio albums, reaching widespread critical acclaim with their third, Alligator, in 2005. The band continued to gain in popularity with their sixth studio album, Trouble Will Find Me, being nominated for Best Alternative Music Album, and their most recent record, Sleep Well Beast, winning the coveted Grammy Award for Best Alternative Music Album.
There are songs on Sleep Well Beast that are instantly recognizable as the National, but others are much harder to classify. The lyrics are about "trying to come clean about the things you'd rather not," says Matt. "Some of it's about marriage, some of it's about my relationship with Aaron and the band, some of it's about train tracks and dancing." Guitar solos appear like never before, yet on some songs guitars account for only a tiny fraction of the music. "It was important that we genuinely explore new territory and risk falling on our faces, or not make a record at all," explains Aaron. "This album feels complete to me."
Canadian indie-pop band Alvvays joins The National at Starlight as a special guest. Formed in 2011 in Toronto, Alvvays released their self-titled debut album in 2014 and their second album, Antisocialites, in 2017. Although the band does not focus on a specific genre, they have been described as jangle pop, a subgenre of pop rock, by reviewers and press.
Tickets for The National with special guest Alvvays are available at kcstarlight.com, by calling 816-363-7827 or by visiting the box office at 4600 Starlight Road, Kansas City, Mo., 64132.