Get On Your Feet! to See a Sensational Musical at Starlight September 7-12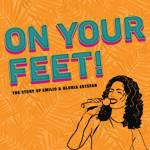 Coming to Starlight this fall from our friends at the St. Louis Muny is On Your Feet!, an energetic musical that tells the inspiring true story of Emilio and Gloria Estefan. Guests will be delighted to experience this sensational show at Starlight September 7-12.
Featuring chart-topping hits from Gloria Estefan and the Miami Sound Machine, this production will have audiences dancing in their seats all evening long. Universally crowd-pleasing and uplifting, this exciting rags-to-riches tale inspires audiences with its positive messages of hope as it shows what can happen when two people believe in their talent, music and one another. On Your Feet! features a talented cast that will truly bring the passion and energy of the Estefans to life.
Tickets to On Your Feet! are available for purchase today by calling the Starlight Theatre Ticket Office at (816) 363-7827 or visiting kcstarlight.com. Whether you are a musical theatre enthusiast, a fan of Latin pop or simply looking for an entertaining evening under the stars, this show is one that will delight.
Interested in giving back to the community with your purchase of On Your Feet! group tickets? Starlight is offering a "Back to School Night" fundraising event to support Harmony Project KC. This local organization is dedicated to uplifting underserved children by teaching them to play instruments and watching how music changes their lives. Interested groups can request a Harmony Project KC promo code by contacting Jeff Miller at jeff.miller@kcstarlight.com or (816) 997-1124.
Groups of 10 or more who are supporting the Harmony Project KC fundraiser are eligible to compete in a contest to win free tickets to Starlight – the group who raises the most money through ticket sales will win an exclusive ticket package to a Broadway show next season!*
For more information about "Back to School Night," visit kcstarlight.com/backtoschoolnight. To learn more about Harmony Project KC, see harmonyprojectkc.org.
All performances of On Your Feet! will begin at 8 p.m. For more information about the show, visit kcstarlight.com.
*The show will be selected after our 2022 Broadway season is announced.