Just Announced – Upcoming Concerts at Starlight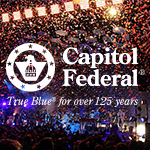 With country, alternative, pop and even a little "shock rock," there's something for everyone at Starlight as part of our 2019 Capitol Federal Concert Series this summer. We've announced sixteen concerts so far, including four announced earlier this month. Mark your calendars – tickets go on sale soon!
---
Dierks Bentley – tickets on sale March 8 at 10 a.m. An extension of his Burning Man Tour, Dierks Bentley announced 30 additional dates earlier this year, including a stop at Starlight Theatre Thursday, August 22. In addition to his success on the Billboard charts, Bentley has been honored with many Grammy and Country Music Association nominations.
---
Judah & the Lion – tickets on sale March 8 at 11 a.m. Following the release of their third LP, Judah & the Lion hit the road for their biggest headlining tour yet with the Pep Talks Worldwide Tour. They kick off the North American leg of the tour right here in Kansas City at Starlight Theatre Saturday, August 10.
---
Alice Cooper/Halestorm – tickets on sale March 8 at 12 p.m. A pioneer of theatrical hard rock, Alice Cooper created a stage show that featured electric chairs, guillotines, fake blood and boa constrictors, and brings his unique brand of "shock rock" to Starlight Friday, July 26. Joining Cooper on the road is American rock band Halestorm.
---
Ben Folds/Violent Femmes – tickets on sale March 11 at 10 a.m. Widely regarded as one of the major music influencers of our generation, Ben Folds brings his genre-bending sound to the Starlight stage Friday, August 16. Joining him on tour is acoustic punk band Violent Femmes.
---
More concert artists and dates will be announced soon. Click here for more concerts in our 2019 Capitol Federal Concert Series or to purchase tickets online. You may also purchase tickets by calling 816-363-7827 or visiting the box office at 4600 Starlight Road, Kansas City, Mo., 64114