Looking Back at 2020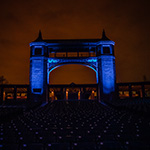 Some people began to refer to Starlight's 2020 as "the year that wasn't." For the first time ever in Starlight's 70-year history, 300,000 guests, 200 dedicated volunteers and more than 200 seasonal employees that are all part of the Starlight magic were unable to walk through our gates.
Yet, despite a year unlike any other, Starlight endured. We found silver linings; we produced virtual victories; we responded to the rising call for social justice; and we maximized our time to plan for the future.
But we didn't do it alone! 840 generous donors stepped up during one of the hardest times in Starlight's history, contributing a combined total of more than $1 million in 2021 to allow Starlight to push forward and persevere. The charitable gifts made during this time helped contribute toward a brighter future for the performing arts in Kansas City!
For a complete recap of Starlight's 2020, we invite you to read our 2020 Annual Report below.