Making an Impact Through Starlight's Community Ticket Program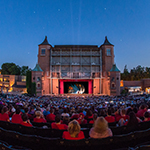 Starlight strives to provide accessible arts experiences to as many Kansas Citians as possible. Since its inception more than 70 years ago, the theatre has consistently given away thousands of tickets per year and has served organizations diverse in size and services, ranging anywhere from focused behavioral health service to community centers.
"As an important component of how Starlight delivers on its mission to provide accessible live entertainment for all audiences, the Community Tickets program has a long history of offering free access to thousands of community members every season," said Alex Jones, Starlight's Vice President of Community Engagement. "The nonprofit organizations that utilize community tickets are doing incredible work in the Kansas City region, and it is a privilege to partner with them so that their clients have the ability to experience the thrill of live theatre."
Since opening its doors in 1950, Starlight's Community Tickets program has involved more than 450 organizations and their clients to give the opportunity of enjoying live theatre with free tickets to Broadway musicals. Each night of the summer Broadway series, Starlight donates up to 364 free tickets, valued at over $250,000, to local nonprofits. Starlight's Community Tickets program was developed to provide organizations serving individuals who otherwise may not be afforded the opportunity to experience professional theatre and serves numerous community partners, including those that dedicate resources and services to underprivileged and at-risk youth, individuals who are medically dependent or disabled, and low-income senior citizens.
Though the application period for the 2021 Community Tickets program has ended, those interested in more information regarding next season's program are encouraged to contact us at communitytickets@kcstarlight.com.