Meet Claire McEwen, Philanthropy Coordinator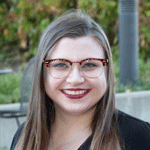 Claire joins Starlight's Philanthropy team to support all philanthropic efforts including events management, gift processing, donor cultivation, ticket coordination, and prospect research. She comes directly from the Kansas City Repertory Theatre with a passion for ensuring all members of Kansas City have access to experience the arts. Read on to learn more about the newest member of the Starlight team!
What excites you the most about joining the team at Starlight?
I'm so excited to be joining such a welcoming team! I believe that the true measure of an organization is how well they treat staff, volunteers, and interns. I absolutely love that there are current staff members that started in Starlight's internship program. It's meaningful to see how Starlight truly invests in the education and experiences of young professionals by hiring them in the future. I was especially impressed with Starlight's IDEA work and accessibility initiatives. I'm thrilled to be working alongside an amazing team who understands that the performing arts should create a fun and engaging space for everyone. I'm excited to help connect the Kansas City community to high-quality entertainment and act as a catalyst for patrons to make memories for years to come!
Do you have a favorite Starlight memory?
I had a really amazing time at the Phoebe Bridgers concert this summer with my friends. I remember being nervous about trying to find parking at such a large venue that I picked everyone up an hour and a half early. I was so impressed with how easy it was to park and walk in! Because I had built-in so much extra time for parking, we were able to spend that extra time meeting fellow fans while in line for merchandise. The weather that night was also super memorable because it was that warm, humid, cloudy summer weather that is just shy of stormy, but it fit perfectly into the ambiance!
Tell us about your favorite musical experience.
I grew up just outside of St. Louis, and the first musical I ever attended was Legally Blonde at The Muny. I remember being astounded by the quick-change mid-song and how everything was perfectly in place! I love the idea of performing live theatre outdoors to share a story with thousands of strangers. I think that watching live performances in a large crowd when everyone gasps and laughs all at the same time is one of the most cathartic and human experiences.
In your experience, why is having access to the arts so important?
I believe the arts are crucial because it teaches collaboration skills, without the pressures of competition. The performing arts are so unique because people can gain all of the collaboration and teamwork skills that result in a singular unified, crowd-pleasing project!  There are a lot of activities that can develop teamwork skills, but they often lead to a competition or game that results in a winning team and losing team. The most beautiful thing about producing art is that there is no impending title or award at stake; the celebration is the impressive work that brings joy to people. Improving access to the arts will create more empathy. I firmly believe that if we do everything right, there would be no competition in the arts, because we can only lift each other up through collaboration!
What do you like to do in your spare time?
I love to spend time exploring Kansas City and supporting local businesses. During the day, I love walking around the River Market and tending to my house plants. In the evening, you can probably find me on a dance floor or at a comedy show--I might even be holding the microphone!
What might someone be surprised to know about you? 
A goal of mine is to get my motorcycle license!
Have more questions for Claire? You can contact her directly at claire.mcewen@kcstarlight.com.