Meet Starlight's 2021 Vincent Legacy Scholarship Recipients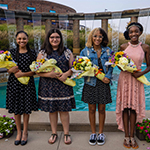 Last month, Starlight leaders, supporters and staff honored the four most recent Vincent Legacy Scholarship recipients prior to the Friday evening performance of On Your Feet!. Each student earned a $2,500 scholarship to use toward their future arts training and enjoyed dinner and a reception with their families prior to the on-stage recognition.
Kalen Allen, a 2009 Vincent Legacy Scholarship recipient, presented the scholars on stage before the group enjoyed the evening's performance of On Your Feet!. Since winning his scholarship, Kalen created his viral "Kalen Reacts" videos, which caught the attention of Ellen DeGeneres. He has now guest hosted The Ellen Show, appeared in the 2020 Seth Rogan movie "American Pickle," and walked in New York Fashion Week. Kalen recently announced he is joining the cast of Amazon Prime's new show, "With Love." He returned to Starlight as an honorary Starry Night attendee and to present this year's scholarship recipients.
Meet Starlight's 2021 Vincent Legacy Scholars —
Noa Henderson
Noa is an eighth grader from Lee's Summit, Mo., who has a passion for singing and has performance experience at her school, which led her to discover a love of music. She would like to learn how to play the guitar and piano, and hopes to eventually use those skills to create and share music.
Savannah Jordan
Savannah attends Raymore-Peculiar High School, where she is involved in theatre, forensics and choir. On top of that, she maintains a 4.0 GPA. She is looking forward to using her scholarship to gain new skills in the performing arts industry. In her application, Savannah noted that she dreams of being on stage as a professional or helping kids like herself obtain their dreams in the performing arts.
Samyra Regalado
Samyra is a student at Sumner Academy of Arts and Science and is excited to explore all areas of the performing arts. She plans to use her funds to take vocal lessons, dance and acting classes and had the opportunity to perform in a middle school theater production, which helped her discover her love of musicals. Samyra hopes to make it to New York City to see a Broadway show.
Chamberlain Webster
Chamberlain is an eighth grader at Académie Lafayette and loves acting and singing. This past summer, she had the opportunity to play Dorothy in a summer production of The Wiz Jr. with The Black Repertory Theatre of Kansas City. Chamberlain is also interested in making a difference in her community, with an eye on a future in politics.
Since 2006, Starlight has proudly awarded Vincent Legacy Scholarships to qualified and deserving middle school students throughout metropolitan Kansas City.
The need-based Vincent Legacy Scholarships were established with a generous contribution from longtime Starlight supporters Greg and Rebecca Reid. The scholarships provide BIPOC students in metropolitan Kansas City the opportunity to pursue professional training in the performing arts.
For more information, contact education@kcstarlight.com.