Middle Schools Receive Support to Visit Starlight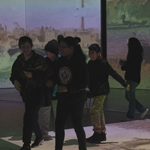 Hundreds of middle school students in the Kansas City Public Schools and Kansas City, Kansas Public Schools were able to experience Monet & Friends Alive at Starlight through the Community Tickets Program.
For more than 70 years, the Community Tickets program has offered free tickets to thousands of community members every season. Through partnerships with Kansas City nonprofits and neighborhood organizations, this program is an important component of how Starlight delivers on its mission to provide accessible live entertainment for all audiences.
Thanks to the support of our generous donors, almost 400 students from the following schools received free access to see Monet & Friends Alive in 2022.
African Centered College Preparatory Academy
Arrowhead Middle School
Carl B. Bruce Middle School
Central Middle School (KCKPS)
Central Middle School (KCPS)
Foreign Language Academy
Lincoln College Preparatory Academy
Northeast Middle School
Paseo Academy of Fine & Performing Arts
Rosedale Middle School
Sumner Academy of Arts & Science
Monet & Friends Alive
Set against the adventurous and bohemian backdrop of 19th-Century Paris, Monet & Friends Alive celebrated a fresh new approach to painting that opened the doors for modern art.
The technology in the immersive display brought the Impressionists' ground-breaking paintings to life, projected on an enormous scale in vivid detail. The exhibit was accompanied by music by from composers who were contemporaries of the Impressionists, including Claude Debussy, Jacques Offenbach, and Maurice Ravel.
"This may have been one of the first transformational art experiences for my students. The art was alive and unlike anything they had encountered before," said a teacher from Northeast Middle School.
Schools were provided pre-visit resource guides to give the students a chance to learn about the art and artists before encountering them in the immersive display.