Save the date for Starlight's 18th Blue Star Awards Ceremony!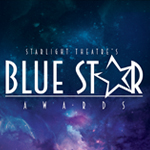 School is back in session, and high school theatre students are already hard at work rehearsing their 2019-20 musicals. Registration closed Sept. 16, for the 2019-20 Blue Star Awards, and Starlight is proud to announce that 53 metro area high schools have applied to participate in this season's awards program.
Now in its 18th year, Starlight's Blue Star Awards annually recognizes achievement and excellence in musical theatre among Kansas City area high school students. Adjudicators, who are theatre professionals, performing artists, designers and theatre arts educators, attend each participating school's musical and provide evaluations and commentary to determine nominations.
For those entrants in the 2019-20 Blue Star Awards, nominations will be announced in late April or early May of 2020. Then, mark your calendars—Starlight has set the 2019-20 Blue Star Awards Ceremony for the evening of Thursday, May 21. The Blue Star Award winners for Outstanding Actor and Actress in a Lead Role will again travel to New York City to compete in the National High School Musical Theatre Awards, next June.
With so many area high schools participating in the 2019-20 Blue Star Awards, Kansas Citians have many fantastic opportunities to see local young talent shine on local stages. A full list of participating schools and musicals will be posted soon at kcstarlight.com/bluestar.
Starlight's Blue Star Awards are generously supported by Blue Cross and Blue Shield of Kansas City, CommunityAmerica Credit Union, Southwest Airlines, Chicken N Pickle and Kenmark Backdrops.