Staff Highlight: Chatting with Baylee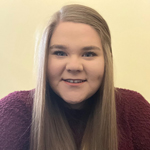 Just like most workplaces, whether they are corporate or nonprofit, the Accounting Department has a lot of important responsibilities. Making sure the money coming and going through the organization is handled wisely and efficiently takes a lot of time and skill.
Today, we're talking to one of the two members of our accounting team. Baylee joined Starlight in 2022 and is currently the Accounting Manager. In her role, she's responsible for standard accounting tasks, including processing payroll, accounts receivable, accounts payable, reimbursements, and more.
When asked what the best part of the job is, Baylee said it's all about the people.
"I have been here a short amount of time and have felt so welcomed. I also love the entertainment industry so to be able to do that in Kansas City makes my job that much sweeter," she said.
Originally from Missouri, Baylee lived in Nashville, Tennessee, before moving back to work at Starlight. The first concert she attended at Starlight was Niall Horan in 2018. In fact, that was the first time she attended a concert at an outside venue and it made a lasting impression!
In her free time, Baylee likes to spend time with her family at their lake house and go shopping with her mom. She purchased a house last year and working on that has become quite the hobby. She has a 4-year-old Jack Russell named Beau (below) who she calls "the craziest boy."
We appreciate all the work Baylee does to help keep Starlight running smoothly. Of course, we appreciate that she keeps track of our paychecks and time off, too. 😉
By the way, there is an open position for an accountant if you know anyone who loves working with great people in a great place!