Starlight Announces Charlie Hustle Communi-TEES Launch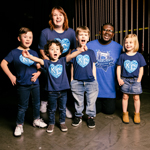 Starlight and Charlie Hustle are excited to announce some out-of-this-world Communi-TEES. The two have partnered to bring Kansas Citians and Starlight fans a first-of-its-kind glow in the dark t-shirt. The collection includes two designs and a portion of the proceeds from sales of the tees will be donated to Starlight.
"We've been fortunate to collaborate with amazing charitable organizations through our Communi-TEES program over the years," Greg Moore, C.O.O. of Charlie Hustle, said. "To provide awareness and funds for Starlight—KC's beloved historic theatre—is not only rewarding but allowed our team to launch our very first glow-in-the-dark t-shirt."
Tees are available for purchase now at charliehustle.com and will be available this summer on-site at Starlight Theatre. Guests can purchase inside the venue gates at Starlight, and merchandise will be available for the summer concert and Broadway series.