Starlight Hosts the 2022 Arts Integration Symposium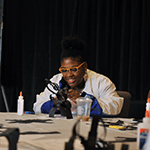 Supporting arts education in Kansas City, Starlight hosted the 2022 Kansas/Missouri Arts Integration Symposium July 26 and 27 at its historic theatre in Swope Park. More than 100 educators from 15 counties in the Kansas City Metropolitan area received training on utilizing arts integration techniques in their community classrooms.
Faculty trained by the John F. Kennedy Center for the Performing Arts in Washington, D.C., led the symposium. The symposium supplies educators with innovative tools to help them professionally develop and provide their students with engaging learning experiences. Four teaching artists from all over the country taught the workshops.
The 2022 workshops included:
– Let's Build! The Art of Paper Sculpture with Kay Thomas
– Creatively Moving Through SEL: Feelings and Awareness with Jessica DiLorenzo
– Building Reading Comprehension Through Sound and Rhythm with Imani Gonzalez
– Your Body is a Drum! Self-Expression through Body Percussion with Jason Nious
Allison Doerr, a second-grade teacher at the Academy for Integrated Arts, said she has been coming to the arts integration symposium for the last four years. Each year, she gets something new out of the experience.
"It makes the job much more enjoyable when we have a curriculum that we believe in, are passionate about, and puts students first," Allison said. "Arts integration does that."
Kara Armstrong, Program Director for Arts Education at Midwest Trust Center and organizer of the Arts Integration symposium, said having the symposium at Starlight Theatre added a new sense of magic to the event.
"Being at Starlight creates magic and wonder before we even start the content," Kara said. "We are in the perfect backdrop for thinking creatively."
Starlight is dedicated to supporting the arts and elevating arts integration in Kansas City and beyond. Thank you to everyone that made this year's symposium a success!