Starlight Partners with Variety KC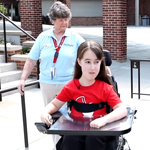 The Starlight and Variety KC partnership has resulted in ADA parking signage in the A Lot and Zebra Lot. These innovative parking signs feature pictures of Variety KC kids as a reminder to keep disabled parking spots open for those who need them. This project has also brought improved communication services to Starlight, including communication boards installed at Guest Information Kiosks, as well as communication boards and sign language boards that patrons can check out for free on performance nights. Patrons in need of noise-canceling headsets, weighted blankets and fidget toys will have the opportunity to check out Variety KC sensory kits during events. The Variety KC partnership has also included the installation of universal changing tables in Starlight restrooms.
Starlight strives to be as inclusive as possible and continuously evaluates patrons' needs, so all Starlight visitors may have a positive and memorable experience. In addition to Starlight's Variety KC partnership, Starlight offers a variety of other accessibility services, so as many people as possible can enjoy magical nights under the stars at Starlight. For more about Starlight's accessibility services, visit kcstarlight.com.
Variety KC is a volunteer-based organization that focuses on providing the equipment and opportunities needed to help children with developmental disabilities attain mobility and freedom, so they can be included in mainstream school and activities, achieve independence and experience what the community has to offer. More information about Variety KC can be found at varietykc.org.