Starlight Patrons, Staff and Ambassadors Support Hunger Action Month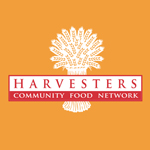 September was Hunger Action Month, a time when the national network of food banks, Feeding America, commemorates the fight against hunger in the United States. Starlight helped Harvesters, Kansas City's own regional food bank, spread the word during the national Broadway tour of Hello, Dolly! by asking patrons to bring non-perishable food donations to the show.
Because orange is the signature color of Hunger Action Month, Starlight encouraged patrons to donate non-perishable "orange" items. Starlight patrons, staff and ambassadors went above and beyond, filling the Harvesters barrels with more than 750 items, including canned yams, peaches, carrots, pumpkins and more.
Of course, more than just "orange" items were accepted—the Harvesters bins filled with canned veggies and fruits and dry goods of all shapes and sizes.
After the conclusion of Hello, Dolly!, Starlight staff helped to organize and load the donations to be distributed in the 26-county area that Harvesters serves. In that area, it's estimated that nearly 350,000 people are food insecure and miss an estimated of 58.2 million meals annually.
Starlight would like to extend its thanks to all patrons, staff and Starlight Ambassadors that helped to close the food gap during Hunger Action Month.