Starlight to Host Kansas City Ballet in Spring Performance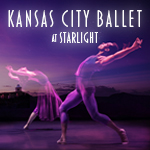 It's been a little over a year since the Kansas City Ballet and Starlight both temporarily shut their doors due to the COVID-19 pandemic. Now, the companies are back and ready to hit the big stage for their first in-person show since 2020—and for the first time together. This exciting production is the first time the Kansas City Ballet has performed at Starlight's historic venue in Swope Park, and audiences won't want to miss it. With 70-minutes of new performances uniquely designed to tantalize your sense of adventure, the KC Ballet is sure to excite guests under the stars.
KC Ballet at Starlight was created by an extraordinary gifted team of choreographers to include the KC Ballet's Artistic Director, Devon Carney, KC Ballet Masters Kristi Capps and Parrish Maynard, Principal Dancer at Houston Ballet Melody Mennite, Second Company Manager and Ballet Master Christopher Rudd, and KC Ballet Company Dancers Emily Mistretta and James Kirby Rogers.
Experience the KC Ballet at Starlight, Friday, May 21 at 8 p.m. and Saturday, May 22 at 8 p.m. As an effort to give thanks to our front-line workers who continue to play an essential role during the pandemic, the KC Ballet is extending a very special offer with a free matinee performance on Saturday, May 22 at 2 p.m. Reservations to the matinee are required.
General admission tickets can be purchased and matinee reservations can be made by calling the Starlight Theatre ticket office at (816) 363-7827, or online, here. Free parking for the matinee performance will be available. Parking for other performances can be purchased online at $10 per vehicle.
COVID-19 protocols will be enforced. Seating will be assigned with appropriate social distancing, and masks will be required at all performances. To learn more about Starlight's safety measures, click here.