Starlight Welcomes Five New Members to the Board of Directors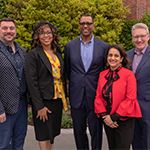 Starlight welcomed five new members—Aviva Ajmera, Robert J. Hingula, Michael T. Lanning, Vanessa Vaughn West and Eddy Whitley—to its board on May 1.
Starlight's board of directors is comprised of dedicated business and civic leaders dedicated to ensuring Starlight's legacy through governance and advocacy. Directors serve 3-year terms and provide leadership, assist with policy decisions and ensure accountability.
Aviva Ajmera is the CEO and founder of SoLVE KC, a Kansas City-based consulting firm. founded SoLVE with the mission to help Kansas City businesses grow. In her role, Ajmera supports clients across numerous industries, including non-profit organizations. Ajmera serves on several Kansas City Boards such as the Kansas City Ballet, Children International, the Women's Employment Network and now Starlight. A highly regarded speaker and presenter in the Kansas City area, Ajmera has a passion for supporting, mentoring and teaching businesses and entrepreneurs.
Robert J. Hingula is an attorney and shareholder at Polsinelli. Hingula's practice primarily focuses on trial and counseling work involving labor and employment law. Advising clients to help them to comply with statutes such as the Uniformed Services Employment and Reemployment Rights Act, the Family Medical Leave Act and the Fair Labor Standards Act, Hingula has represented businesses and educational institutions in a variety of industries.
Michael T. Lanning is the owner and senior managing principal of US Asset Services, a multifaceted commercial real estate firm with a focus on leasing and managing government-leased properties around the US. Lanning launched the firm three years ago after spending 30 years working for major multinational commercial real estate firms.
Vanessa Vaughn West is the director of diversity and inclusion at Lathrop GPM. Vaughn West has 20 years of experience in roles focused on diversity and inclusion, corporate social responsibility, community relations and communications. Vaughn West previously served as the community relations manager of the city of Olathe, Kansas, a role in which she championed initiatives for human relations. She is also the founding member of United Missouri Bank's Diversity & Inclusion Taskforce, previously worked for the Kansas City nonprofit El Centro and is actively involved in community leadership.
Eddy Whitley is the owner of Whitley Construction, which specializes in commercial drywall, ceilings, and miscellaneous carpentry. A member of St. Peter's Catholic Church in Brookside, Whitley has served on the church's Executive Committee. Whitley is also the Chairman of the Kansas City Builders' Association. In addition to his role as a Starlight board member, Whitley serves as a board member for the Kansas City Laborers' Union Pension Fund.
Starlight is grateful to have these distinguished leaders serve on its Board of Directors to advance Starlight's mission
For more information about Starlight's Board of Directors, please visit www.kcstarlight.com/about-starlight/governance/.