Starlight Welcomes New Board of Directors Chair Mark Fortino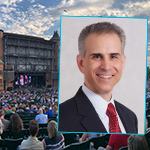 Congratulations to Mark Fortino as he assumes his newly elected role as Chair of Starlight's Board of Directors. Prior to being elected as Chair, he served on the Board for six years, including three years as Vice Chair of Finance.
Fortino is the Chief Operating Officer at Country Club Bank and has over 30 years of experience in the financial industry. He spent 21 years at Bank of Blue Valley where he led the company to become one of the strongest banks in the Kansas City area. Other notable moments in his career also include guidance of Bank of Blue Valley's sale to Heartland Financial USA, Inc., the parent company of Morrill & Janes Bank and Trust.
Starlight has always had a special place in the lives of Fortino and his family. It's where he and his wife had their first date and where Mark's son, Anthony, developed his love for the stage by participating in programs like Starlight's Blue Star Awards. Mark's love of the arts doesn't just stop with Starlight; he is also a board member of the Barbershop Harmony Society, an international association for barbershop quartets. Most recently, Mark also sang the National Anthem at a Royals game.
"Mark is a great leader in the community and someone committed to continue building upon the legacy of this historic venue," said Rich Baker, CEO & President of Starlight. "There's no doubt our board and Starlight will be in great hands under his direction as Board Chair. We are excited to have him," Baker added.
Members of Starlight's Board of Directors provide leadership, assist with policy decisions and ensure accountability. Mark began his two-year term May 1 after serving as Chair Elect for the past year alongside Ora Reynolds, who was Chair from 2018-2021.
Starlight welcomes Mark Fortino and looks forward to his leadership.