Surprise! You Won a Scholarship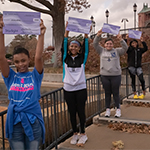 Starlight's family of Vincent Legacy Scholarship recipients grew by five in mid-November when the students who participated in our 2020 series of performance workshops received a pleasant surprise – $500 scholarships to pursue additional training in the performing arts!
Each of the students – now in grades 7 through 9 – originally applied in early 2020 to audition and compete for a full $2,500 Vincent Legacy Scholarship. However, due to the pandemic, Starlight was unable to host in-person auditions as planned. Instead, a modified approach was created, and interested applicants were invited to participate in Starlight-planned workshops from July through November. Initially via Zoom and later in-person at Starlight, the students explored acting, singing, dance, theatre games, warmup exercises and more in sessions led by professional teaching artists.
When they came together for their final workshop in mid-November, joined by parents and guardians, the students learned the good news – they were getting Vincent Legacy Scholarships after all. Now, they can enroll in classes, lessons and camps to further develop as young performers.
"Starlight and our program founders, Greg and Rebecca Reid, were excited to surprise these students who continued to follow their performance dreams despite the challenges of a pandemic," said Barb Schulte, Starlight vice president of community engagement. "Their $500 scholarships will open up new opportunities to build their skills and gain experience."
Congratulations to Starlight's five newest members of the Vincent Legacy Scholarship family:
Jada Davis, freshman, F.L. Schlagle High School
Savannah Jordan, freshman, Raymore-Peculiar High School
Samyra Regalado, freshman, Sumner Academy of Arts & Science
LaBrenda Roland, freshman, Paseo Academy of Fine and Performing Arts
A'shay White, 7th grader, Arrowhead Middle School
Visit the Vincent Legacy Scholarship page after the first of the year for information about the 2021 program.