Three Cheers for our 2020 Graduates!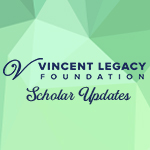 Starlight and the Vincent Legacy Foundation extend CONGRATULATIONS to three of our scholars who are now high school graduates! We shine a spotlight on Faith Andrews-O'Neal, T'Khara Jones and Amari Lewis as they begin their pursuit of new goals and adventures, and we applaud them for succeeding in a senior year filled with challenges and uncertainty. We wish these three young women the very best as they venture on with the spirit, determination and talent that first led them into our scholar family.
Faith Andrews-O'Neal was awarded a Vincent Legacy Scholarship in 2016 as an eighth-grader and avid dancer. In recommending her for the program, Faith's family and instructors noted not only the quality of her skills as a performer but the strength of her character and her contagious sense of purpose toward improving every day. Faith continued her pursuit of excellence as a student at St. Teresa's Academy in Kansas City, Mo., serving as writer, blogger and co-opinion editor for the school's online news platform as well as senior class president. Faith begins at Columbia University this fall, majoring in political science on a pre-medical track. This summer, she was awarded a virtual fellowship with the Columbia Day Spectator (the university's newspaper) and has already started her college writing career with a piece highlighting the Dance Theatre of Harlem and its efforts to bring greater visibility to black dancers in the world of ballet.
T'Khara Jones was awarded a Vincent Legacy Scholarship in 2015 as a seventh-grader at Arrowhead Middle School in Kansas City, Kan. She joined the program having already excelled in multiple art forms including choir, dance, instrumental performance, debate and theatre. Her dedication to these art forms, combined with her strong academic performance, allowed her to continue her studies at Sumner Academy of Arts and Science where she earned many accolades. At Sumner, T'Khara was a member of the Principal's Honor Roll, National Honor Society, and a KC Scholars scholarship recipient. T'Khara is now attending Baker University as a student in the nursing program; she also has received scholarships for the university's cheer team and orchestra department.
Amari Lewis was awarded a Vincent Legacy Scholarship in 2014 as a sixth-grader at Arrowhead Middle School. Prior to being awarded her scholarship, Amari had already been hard at work improving her skills in dance, acting and vocal performance by studying with KC Friends of Alvin Ailey and participating in productions with Lyric Opera of Kansas City. Amari attended high school at Sumner Academy of Arts and Science where she performed with the Northeast Kansas District Choir, Kansas All-State Choir, and produced and staged a student-led Black History program. She has also performed with arts organizations across Kansas City including Starlight, the Arts Asylum, StageRight Performing Arts, the KCKCC Performing Arts Center, the Johnson County Arts & Heritage Center, and the KC Fringe Festival. Due to circumstances brought about by the pandemic, Amari will complete her freshman year at Kansas City Kansas Community College before transferring to Tennessee State University to study both music performance and education.
Starlight and the Vincent Legacy Foundation could not be more proud of the accomplishments of these three scholars. Shine on, scholars!