Tune In to Rhythm of the Dance this St. Patrick's Day!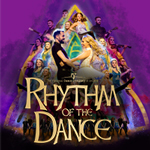 Just in time for St. Patrick's Day, Starlight is excited to announce a streaming presentation of Rhythm of the Dance with Starlight@Home March 12-13 and March 17. With tickets just $20 per household, this incredible music and dance spectacular is the perfect way to celebrate the holiday this season. The 90-minute virtual program takes the audience on an exhilarating and exciting, energy-packed trip through the ages alongside the most up-to-date technology on stage today.
"While many annual St. Patrick's Day celebrations are unable to go on this year, Starlight@Home can provide audiences a safe and family-friendly alternative to celebrate the holiday from the comfort of their own living rooms," Caroline Gibel, Starlight director of programming, said. "We're pleased to be able to present entertainment with such international acclaim just in time for a holiday that's special to so many Kansas Citians."
Rhythm of the Dance is the National Dance Company of Ireland and features World and Irish Champion dancers alongside some of the finest traditional musicians and singers around the globe. What originally began as a 3-week tour of the United States in 1998 has grown into a remarkable show that has toured consistently internationally and received critical acclaim year after year. Originally part of a European tour, this streaming performance was filmed at the fabulous Odessa National Theatre in Ukraine in front of a live audience.
While the history of Irish dance began when the Celts arrived in Ireland from central Europe over two thousand years ago, Rhythm of the Dance continues to evolve and breathe fresh air into Irish dance with reinvigorated the choreography and music, while still rooted in the tradition of the craft. Audiences will hear the iconic Bodhrán drum, Uillean Pipes, Irish fiddle, flute, low whistle and harp, as they enjoy the electrifying dance numbers of Rhythm of the Dance.
Celebrate St. Patrick's Day at home with Rhythm of the Dance March 12-13 and March 17 with Starlight@Home. For more information or to purchase tickets to Rhythm of the Dance, click here.