Upcoming Concerts at Starlight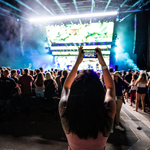 There's nothing quite like live performances under the stars. The 2021 Capitol Federal Concert Series continues with a variety of upcoming shows, featuring energetic musical artists and even a comedian.
In August, audiences can look forward to soulful melodies with Jason Mraz and his reggae band. Mraz will perform as part of the Look for the Good Live! Summer Tour 2021 on Tuesday, August 3, at Starlight Theatre.
Next, rock on with Joan Jett & the Blackhearts and Cheap Trick when they come to the Starlight Stage on Sunday, August 29. Watch as these Rock & Roll Hall of Famers perform their mainstream hits.
This September, The Doobie Brothers swing by Starlight with the Dirty Dozen Brass Band. They perform Tuesday, September 14, as part of The Doobie Brothers 50th Anniversary Tour.
Sit back, relax and laugh with Bill Burr, who will visit on Wednesday, September 15, for an engaging comedy performance. This GRAMMY®-nominated comedian brings experience from film, TV and the stage.
Finally, come see Mr. Worldwide, aka Pitbull, as he takes the stage with Iggy Azalea as part of the I Feel Good Tour on Wednesday, October 6. Pitbull will deliver a set loaded with instantly recognizable smashes and surprises.
While you're here, don't miss your opportunity to walk the "blue" carpet and take your picture at the Capitol Federal True Blue Carpet Experience! Don't forget to tag @KCStarlight and @CapFed to be entered in to win a great prize!
Click here to buy tickets or learn more about the 2021 Capitol Federal Concert Series.
To receive priority access to reserving 2022 concert season tickets, please contact Jeff Miller, Sponsorship & Premium Sales Manager,