Want to Volunteer at Starlight in 2023?
If you're looking for a way to get involved or give back this year, Starlight is always looking for volunteers! 
Starlight is fortunate to have a dedicated group of volunteer Ambassadors who help with tasks ranging from scanning tickets to helping maintain the theatre's beautiful landscaping. We asked Starlight's Volunteer Coordinator, Rori DeFoor, why volunteers are so important and what makes someone a good fit to be a Starlight Ambassador.  
"Guests are the whole reason we're here," said DeFoor. "Great candidates often have a love of the arts and music as well as a fun and outgoing attitude. It is imperative that Ambassadors be able to provide the guest experience that Kansas City has come to expect from Starlight Theatre." 
Available Roles
There are a variety of roles Starlight volunteer Ambassadors can fill. The largest number of roles are for scanning tickets and assisting guests during the shows, including finding seats and answering questions.  
There are a few unique roles the public may not realize are an option. One is helping our full-time horticulture team maintain the grounds for guests and visitors to enjoy. From April to October, volunteers meet weekly with Starlight staff to move mulch and provide basic assistance in flower beds. 
The other opportunity is by helping with litter removal on Meyer Boulevard. Each month, a group of Starlight staff and volunteer Ambassadors come together to beautify our community by removing litter from the center dividers of Meyer Boulevard from Swope Park to Highway 71.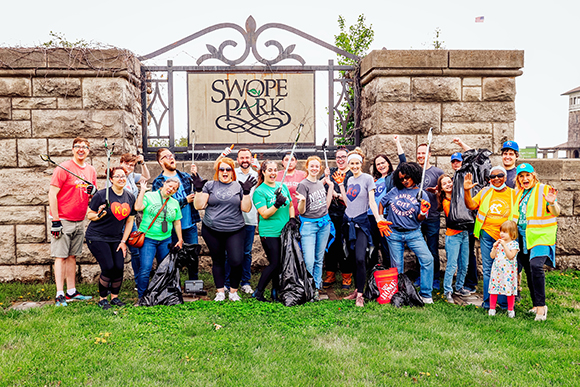 The Rewards of Volunteering
As a nonprofit organization, the support of volunteers is invaluable. In the 2022 outdoor season, Starlight volunteer Ambassadors worked 64 shows for a total of 4,503 hours. That's a lot of time! In fact, it equates to a contribution of almost $135k in value.  
Starlight Ambassadors are truly dedicated individuals and we are always looking for ways to honor them. In addition to getting to see a free show during a volunteer shift, there are drawings for free tickets to events, as well as recognition programs, gifts, and much more! Plus, Ambassadors may purchase up to 4 half-price tickets for Broadway events and are not charged service fees on concert tickets. 
"I adore being an Ambassador for Starlight. Not only did it get me out of my shell, but it has also helped me blossom as a person," said Starlight Ambassador Tori Roberts. "The team cultivates a sense of camaraderie that is really refreshing. The leaders made the first few shows I worked on feel like I could accomplish anything set before me and I was able to get a feel for concerts and shows I wouldn't have realized I could enjoy." 
How to Become a Volunteer
Starlight's volunteer Ambassadors have been a Kansas City legacy since 1959. We invite you to join us by sharing your time supporting this iconic performing arts venue. Learn more online about becoming a Starlight Ambassador or email Rori DeFoor, Volunteer Coordinator at rori.defoor@kcstarlight.com.