Vote for Starlight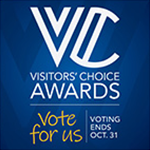 Visit KC is once again giving travelers the opportunity to vote for their Kansas City favorites and Starlight Theatre was lucky enough to get a nomination! If you live outside of the five Kansas City metro counties and you love Starlight, we'd love your vote for Favorite Concert/Live Music Venue.
The Visitors' Choice Awards returns in 2018 for its 12th year and includes categories from Favorite Art Museum to Favorite Barbecue Restaurant and everything in between.
Voting remains open now through October 31. Winners will be announced online in early 2018. Visit KC will provide one lucky voter a winning prize package featuring a two-night stay at 21c Museum Hotel, $100 combined value in gift cards to Country Club Plaza and Power & Light District and two tickets to the Kansas City Zoo.
We hope you'll vote for Starlight!