We're Hiring Great People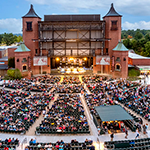 If you're looking for a unique job opportunity, Starlight could be the place for you!
Starlight's work environment is fun, engaging, and challenging. Our employees are invested in the success of Starlight and love what they do! As a new "Cast Member," you will become a part of a community that continues to bring the best in arts and entertainment to the Kansas City metropolitan area.
Apply today for the following opportunities:
House Manager
The House Manager(s) plays a very important role at Starlight, as they are responsible for managing front-of-house operations of the venue during events including, but not limited to: leading the guest experience, staffing all events, training event staff and volunteers, preparation and distribution of event info sheets and reports, and venue safety.
Accountant
This position focuses primarily on accounts payable, payroll, and fixed assets, and occasionally assists with other accounting tasks as deemed appropriate/merited.
Benefits
Starlight employee benefits include employer-paid health insurance for employees, a 401k match, and complimentary tickets to select shows, concerts, and other performances.