Congrats to Cindy Jeffries on Retirement!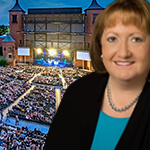 After 18 years at Starlight, Cindy Jeffries, Starlight's Vice President of Marketing and Sales, will retire later this month. She recalls many memories of the amazing shows and performers at Starlight Theatre throughout the years and has been an integral part of changes, improvements and new programs launched in her tenure. She's proud to have been part of its history.
"Starlight is so uniquely Kansas City, with this gorgeous theatre sitting outside in the heart of Swope Park, inviting all to gather under the stars," Jeffries said. "Everyone has a story about it—a special memory. It's the home of so many firsts: first dates, proposals, first concerts, first Broadway show. It was my introduction to Broadway as a little girl coming with my parents. I'll never forget it."
Jeffries joined the team at Starlight in fall of 2003 as the Director of Marketing and was quickly promoted to the Vice President of Marketing and Sales in 2006. In her tenure at Starlight, she's managed the marketing team, premium seat subscriptions (PSS), group sales, the Ovation gift store, customer service, philanthropy and much more. Recently, she oversaw the Starlight rebranding project—providing the historic theatre a welcome refresh for the first time in a number of years.
"I will miss Cindy's positive attitude, her friendly smile and her genuine kindness," Rich Baker, Starlight's President & CEO said. "I wish her the very best in her retirement and am thankful for the many years she shared her unparalleled knowledge and devotion with us at Starlight Theatre."
In her retirement, Jeffries plans to spend more time with her family, travel (post COVID!), finish various home projects, and maybe even volunteer at Starlight! She's thankful that her work has allowed her to share her love of theatre with her daughters—who have each performed in at least one Starlight-produced Broadway show—and emphasizes that she will be hanging on to her season seats (which she's had since the mid '90s!).
"I've been so fortunate to have always loved what I do," Jeffries said. "I'll miss the magic of show nights when the excitement is mounting around a show opening. Every year our first night of the season has a certain magic to it when it all comes alive."
Prior to her work at Starlight, Jeffries spent nearly 14 years at Hallmark working in advertising and marketing roles. She began her marketing career at Payless Cashways in 1981.
Congratulations, Cindy, and thank you for your many dedicated years of service to Starlight! From all of us, we wish you the best in retirement.
To read Cindy Jeffries' entire Q&A, click here.