Mid-July Fires Up With Five Concert Nights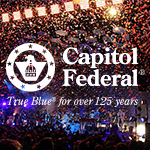 Summer in Kansas City is heating up, and Starlight Theatre's 2017 Capitol Federal Concert Series is no different. With five more shows in July, fans of music and comedy will surely find lots to love:
Wednesday, July 19 – Steve Miller Band with special guest Peter Frampton
Thursday, July 20 – Jim Gaffigan
Friday, July 21 – Steve Martin & Martin Short
Saturday, July 22 – Journey with Asia
Sunday, July 23 – Nickelback with Daughtry and Shaman's Harvest
---
Steve Miller Band
July 19 at 7 p.m.
Beginning with blues that drew on American roots, Steve Miller shifted to craft a brand of rock 'n' roll that more than 15 million people have enjoyed over the past 20 years. Among other honors, the Steve Miller Band received the ASCAP Golden Note Award in 2008, a star for "Recording" on the Hollywood Walk of Fame, and Steve Miller was inducted into The Rock and Roll Hall of Fame in 2016.
Special guest Grammy Award-winning guitarist and songwriter Peter Frampton is one of the most celebrated musicians in rock history. Frampton's session work includes collaborations with legendary artists such as George Harrison, David Bowie, Jerry Lee Lewis and many others.
---
Jim Gaffigan
July 20 at 8 p.m.
Two-time Grammy Award nominee and star of his self-titled show, Jim Gaffigan quickly showed merit in comedy when he landed an appearance on the "Late Show with David Letterman" in 1993. His guest-starring TV credits include hits like "That '70s Show," "Sex and the City," "Ed," "Law & Order," "My Boys" and "Portlandia." Gaffigan has earned Grammy nominations for Best Comedy Album for Jim Gaffigan: Mr. Universe in 2013 and Obsessed in 2015.
---
Steve Martin & Martin Short
July 21 at 7:30 p.m.
Longtime comedy duo Steve Martin and Martin Short present a show that represents the closest thing to pure stand-up comedy that these men have done in decades. With a bit of stand-up, film clips, musical numbers and real conversations about both performers' lives in show business, audiences are sure to be laughing long and loud!
---
Journey
July 22 at 7:30 p.m.
Following their much-deserved induction into the Rock and Roll Hall of Fame in April, Journey continues to be one of the most popular rock bands of all time. Since forming in 1973, the band has sold more than 80 million albums, landed 19 singles in the Top 40, racked up 25 gold, platinum and multi-platinum albums, and headlined sold-out shows worldwide with classic hits like "Don't Stop Believin'," "Any Way You Want It," "Faithfully" and much more.
---
Nickelback
July 23 at 6 p.m.
Following the June 9 release of their ninth studio album, Feed The Machine, multi-platinum Canadian rock band Nickelback hits the road on a 44-city North American tour this summer. Nickelback has been honored with nine Grammy Award nominations, three American Music Awards, a World Music Award, a People's Choice Award, 12 JUNO Awards and induction in Canada's Walk of Fame in 2007.
Nickelback's special guest band, Daughtry, was formed and fronted by "American Idol" fifth season finalist Chris Daughtry. The American rock band has released four studio albums since debuting in 2006.
---
The remaining schedule for the 2017 Capitol Federal Concert Series at Starlight is below:
alt-J – Thursday, Aug. 3
Young The Giant – Saturday, Aug. 5
Foreigner & Cheap Trick – Tuesday, Aug. 15
Idina Menzel – Wednesday, Aug. 16
Matchbox Twenty & Counting Crows – Wed., Sept. 27
The xx – Tuesday, Oct. 3
Willie Nelson & Family – Wednesday, Oct. 4
Alison Krauss & David Gray – Sunday, Oct. 8