Starlight Celebrates the Holidays with Vincent Legacy Scholars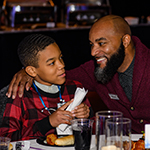 Many people gather during the holidays to celebrate and share updates from the past year. In December, recipients of Starlight's Vincent Legacy Scholarship, along with Starlight staff and board members, had a chance to celebrate the theatre community and look toward the future.
Since 2006, Starlight has proudly awarded Vincent Legacy Scholarships to middle school students throughout metropolitan Kansas City. Established with a generous contribution from longtime Starlight supporters Greg and Rebecca Reid, the scholarships provide BIPOC (Black, Indigenous, and People of Color) youth with funds to pursue professional training and experience the life-expanding possibilities of the performing arts.
This year, 14 scholars and their families gathered for dinner and a program in the Berger Rehearsal Hall that had been transformed into a winter scene inspired by the Impressionist painter Claude Monet.
"I enjoy that the evening is a chance for Vincent Legacy Scholars and guests to come together, reconnect, and have a relaxing night during the holidays," said Dr. Andy Pierce, Community Engagement Manager for Starlight. He particularly enjoys the portion of the event when Scholars provide updates and share what they're looking forward to in the new year. "It is always great to hear what the Scholars are doing. This past year, fives Scholars were in shows at Music Theater Heritage and The Coterie. Next year, we'll have a Scholar attending Harvard and another finishing up nursing school! It's amazing to see what everyone is up to, whether it's on the stage or forging a path outside of the performing arts," said Pierce.
The program included performances by Scholars Brielle Jefferson (2019), Lauren Howard (2017), and Amari Lewis (2014) singing songs from Mulan, The Greatest Showman, and Beauty and the Beast. The evening also included a game of trivia, prize drawings, and a chance for everyone to explore the Monet & Friends Alive exhibit.