Vincent Legacy Scholar Earns Competitive Spot at Jim Henson Puppetry Workshop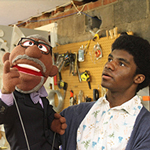 2014 Vincent Legacy Scholar Zachery Garner recently had the opportunity to attend a prestigious puppetry training initiative with the Jim Henson Company in Los Angeles, California. The Jim Henson Company is best known for creating the Muppets franchise, making this "a lifetime opportunity" for Zachery, who is a puppeteer and actor from the Kansas City area. Starlight is proud of this Vincent Legacy Scholar for shining in a very unique performance art. 
To date, Zachery is Starlight's only Vincent Legacy Scholar specializing in puppetry. He was honored as a Vincent Legacy Scholar before entering high school and attended Kansas City Kansas Community College. This past June, Zachery became a part-time staff member in puppet construction, social media creation and puppeteering at Mesner Puppet Theater after having previously worked with Mesner as a contract artist for 13 years. Zachery has appeared in numerous performances as a puppeteer and actor with the Mesner Puppet Theater, Coterie Theatre, Kansas City Improv Company and local schools and churches. 
With the Jim Henson Company, Zachery participated in the 2021 Puppeteer Training Initiative, a three-week inclusive workshop that sought to train top talent from diverse communities and backgrounds in the Jim Henson puppetry technique. To qualify for the program, Zachery submitted an application and a short video sample of his work and then was invited to a Zoom audition. There, Zachery earned his coveted spot. To participate in the three-week program, Zachery was able to relocate to Los Angeles, thanks in part to the generous support of Starlight and the Kansas City community. 
"We are so excited that Zachery was able to participate in the Jim Henson program as an opportunity to build upon his talents," commented Gregory Reid, Starlight board member and founder of the Vincent Legacy Scholarship Foundation. "We look forward to seeing the opportunities that are in his future to share his talents with a broader audience and arts community." 
Click here to view a sample of Zachery's comedic puppetry work, or follow his progress by following @zacherythursday on Instagram. 
Since 2006, Starlight has awarded Vincent Legacy Scholarships to middle school students throughout Kansas City. Each $2,500 scholarship provides students the opportunity to pursue professional training in the performing arts. For more about Starlight's Vincent Legacy Scholarship program, visit kcstarlight.com/vls.